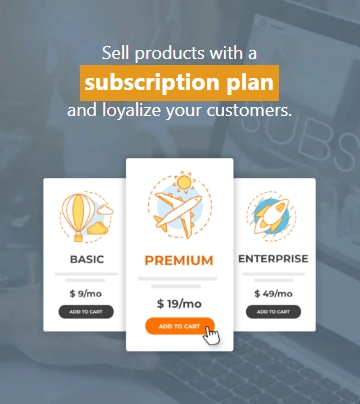 What the plugin does
Sell products with a subscription plan in your e-commerce and loyalize your customers.
How you can benefit from it:
Your business will benefit from the most powerful subscription system to generate more profitable recurring;
You will loyalize a niche of customers who will renew their subscription on a monthly basis and let you earn automatic and guaranteed income;
You will be able to set lower prices for expensive products and services and allow more customers to purchase;
You will be able to offer a trial period to your customers and let them test your products so you can push them to buy. You can increase sales by 56% because users are more likely to buy after they get familiar with a product or a service.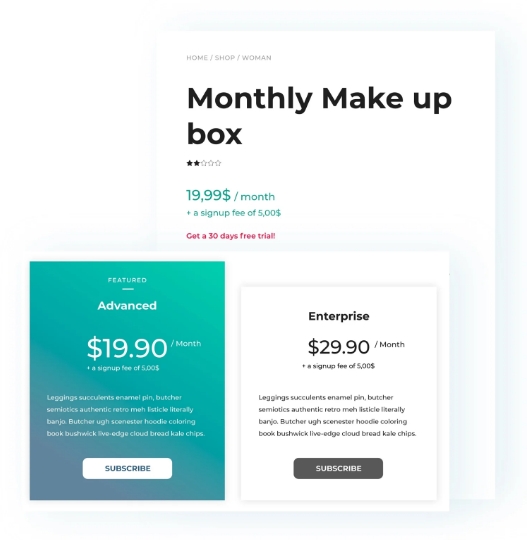 Create your recurring income system with products and services sold on a subscription basis
Selling products on a subscription basis lets you get regular payments and monitor your income growth month by month.
This has become the most popular business model in recent years: users pay for a subscription – typically weekly, monthly or annually – to use software, to access training courses, to read a magazine, to get unlimited access to an archive of useful resources (like the audio file library offered by Amazon Audible or sites with photos stocks) or to benefit from a hosting service. But this applies also to gyms, video games, libraries, consulting or coaching services, legal advisory etc… It's a winning business model that suits most of the products or services available for sale.
Thanks to the full integration with Membership, you will be free to create subscriptions for online products and give exclusive access to those who purchase them, like video courses, monthly podcasts, etc.
The trial mode will let your customer access your products for free and for a limited time: you can ask them to register in your shop (an effective way to build a good mailing list) and increase conversions: it's easier to push customers to buy after they could test the strengths of your product by themselves.
Additionally, the reminder system that is included in Subscription will prompt your customers to activate or renew their subscription.
Automatic charges on renewal orders are available with the following payment methods: PayPal standard, Stripe Premium, Stripe Connect Premium, PayPal Express Checkout for shopping cart, Account Funds Premium and shopping cart Stripe Payment Gateway.
Use product variations to create different subscription plans
Use product variations to create unlimited subscription plans for your product or service and allow your users to easily upgrade and downgrade or switch from one plan to the other. You can set the conditions, for example, if a customer will need to pay the difference between the old and new subscription plan.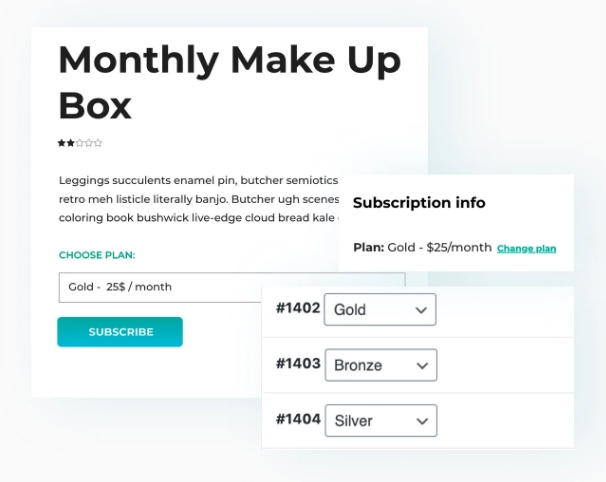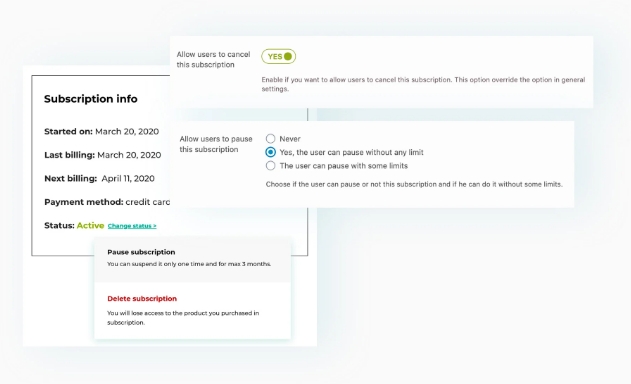 Allow users to switch, pause or cancel the subscription plan
Choose whether to let the user pause a subscription (set limits like the maximum number of pauses or the maximum number of paused days allowed before it automatically gets reactivated), to switch to another plan or to cancel a subscription right from their account.
Set a free trial period to create a list of customers and push them to buy later
A free trial period might be the most effective tool to encourage your users to subscribe and test your products or services for free: on the trial expiration, it will be easier for you to push them to buy and increase conversions.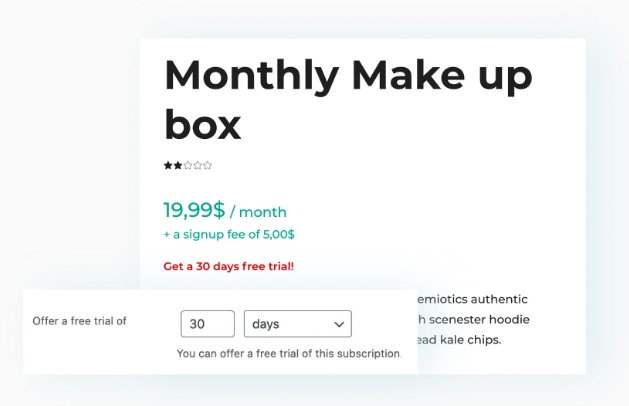 Choose how to handle failed payments and when to suspend or cancel a subscription
Thanks to some advanced options, you can choose how to handle subscriptions with failed payments: set the number of days allowed before the subscription gets suspended and how long it can stay suspended before it gets canceled.
A wide range of e-mail notifications for admins and customers
The plugin allows sending different kinds of email notifications both to the admin and to the subscribers. For example, the user can be notified multiple times about the expiring subscription, the expired subscription, a failed payment or successful payment, if the subscription is getting suspended and so on.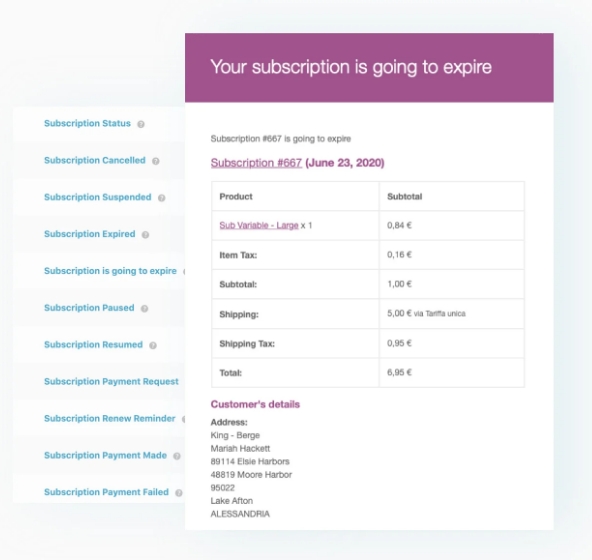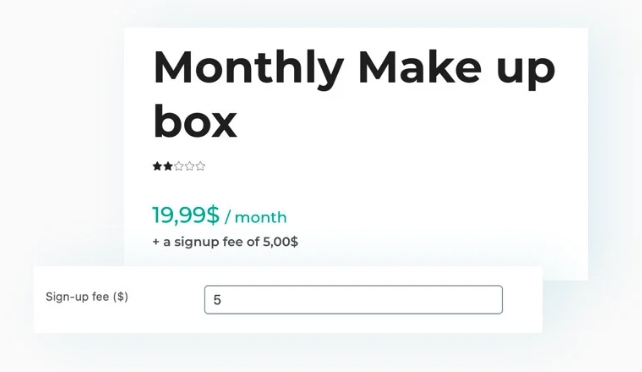 Set a sign-up fee on your subscriptions
Choose whether to ask for a sign-up fee on your subscription-based products.
Two additional coupon types to apply discounts on the sign-up fee or on the recurring payment price
Create a coupon to offer your customers a discount on the sign-up fee or on the recurring fee.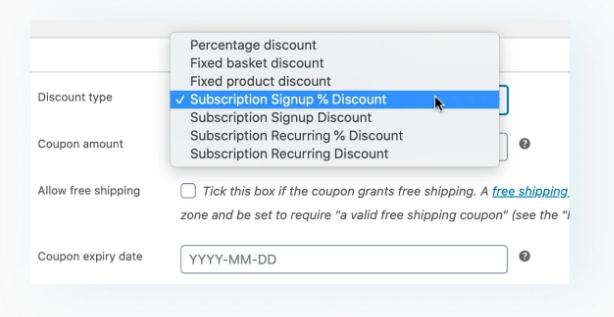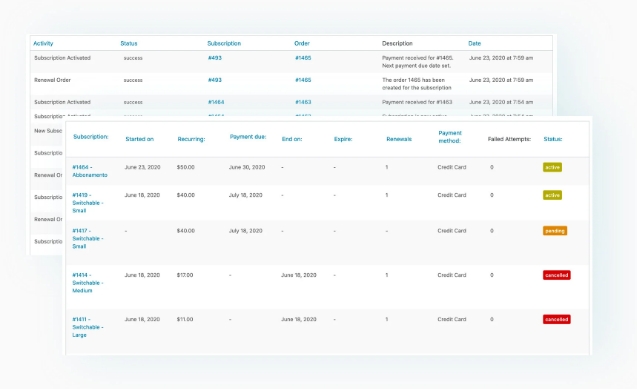 A dashboard to easily track all subscriptions and subscription activities
Monitor the status of every subscription (start and end date, next payment date, payment amount etc.) from the built-in dashboard.
A Gutenberg block to easily create and show subscription modules in your shop
If you are using Gutenberg, you will be able to find the "Subscription plan" block and create custom forms in a couple of clicks to visually display your available subscription plans. You can customize colors, typography, add gradients, icons and much more.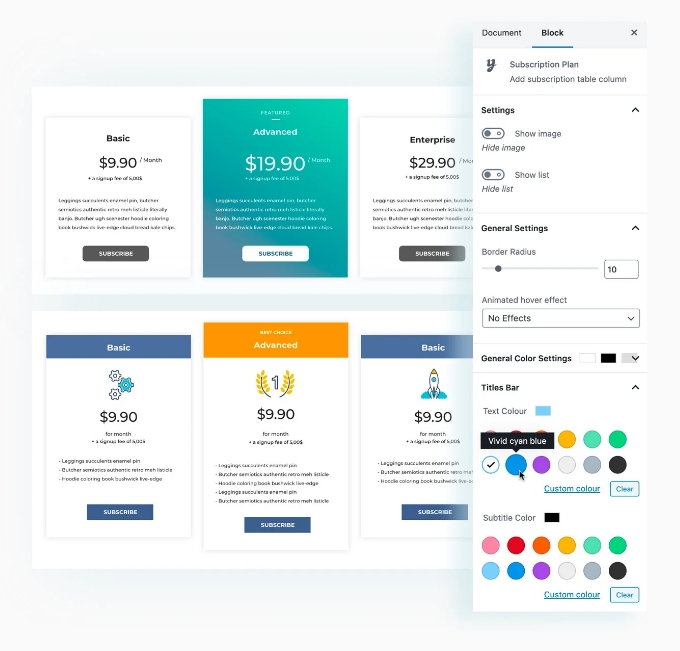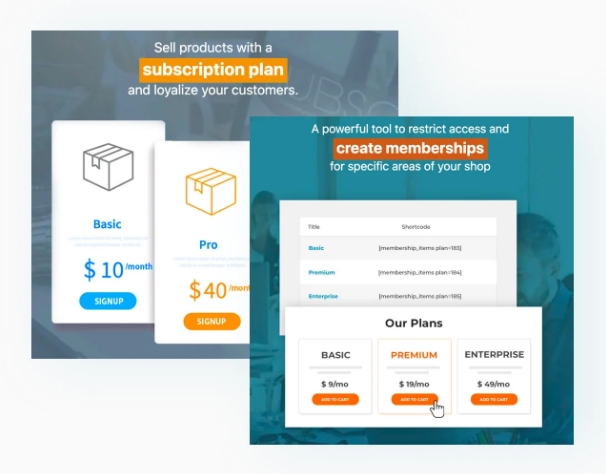 Integration with Membership
Integrate our Membership plugin and let your subscribers access to private contents and to sections with restricted access.
Integration with Stripe
Stripe is one of the integrated payment gateways to let your customers join and renew a subscription plan automatically.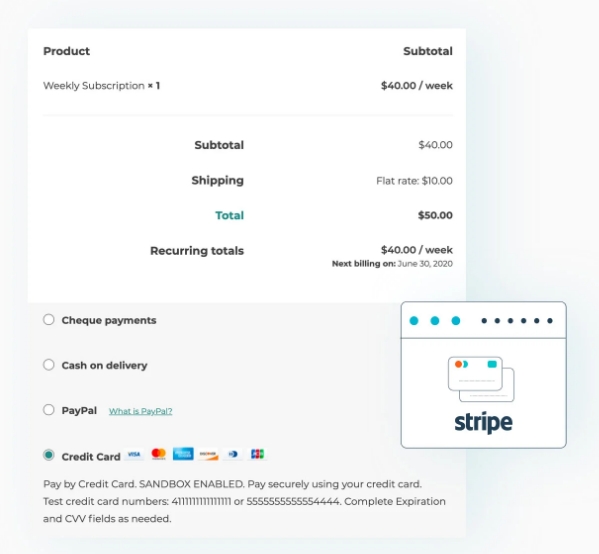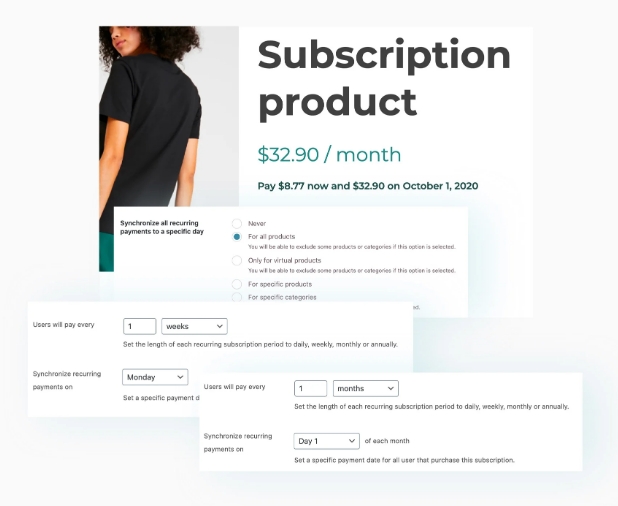 Synchronize all recurring payments to a specific day (of the week, of each month etc.)
Streamline the management of your store subscriptions by synchronizing all recurring payments to the same day (the first day of the month, every Monday and so on) and decide how to handle the first subscription payment: you can charge the user a prorated amount or postpone the payment of the total amount to the day selected in the synchronization options.
Export all the subscriptions to a CSV file
Do you want to download and print an overview of all the subscriptions of your store? Download the CSV file with all the subscription details in one click right from the dashboard.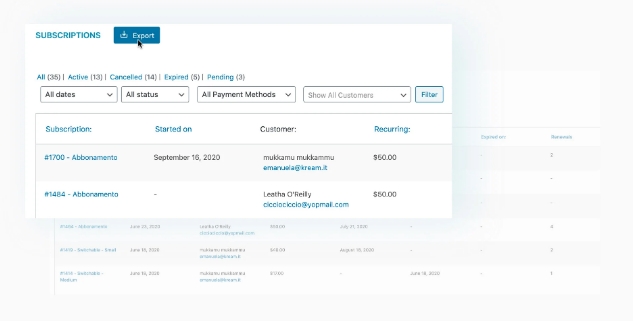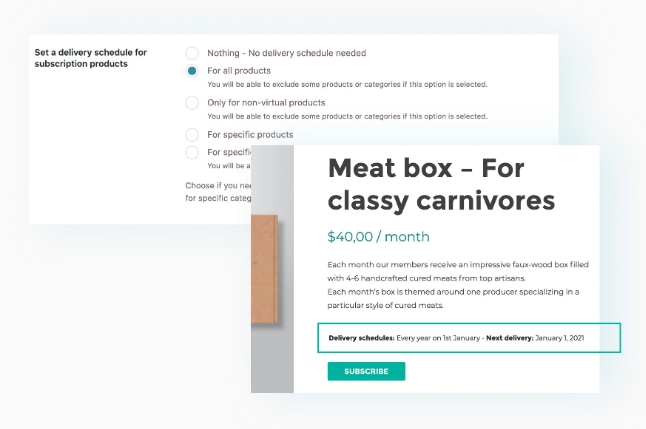 Schedule the delivery of products linked to a subscription
Do your subscriptions involve scheduling the shipping of products (like a product box, a printed magazine etc.)? Take advantage of the dedicated Delivery Schedule option and decide if you want to sync all deliveries on the same day (ex. every Monday, every 1st day of the month and so on)
Print a list of PDF addresses to manage the shipping easily
If you sell subscription-based products that need to be shipped, you can download a list with your customers' addresses into a PDF file and print the shipping labels in one click.